Photos with tag:
1950s
60 Wickham Road, Beckenham 1950 Rear view of the house taken from the gardens, possible a tennis court.
Crescent Road junction with Wickham Road, Beckenham 1959 Site awaiting development after the demolition of Johannisbad in 1959, taken from Cresent Road
Arms of the University of Oxford MISSING ? , After 1952 Drawing of of the coat of arms the University of Oxford, with description giving provenance. Found in the Priory, Orpington.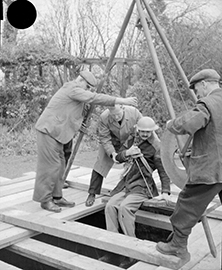 Dene Hole, 1953 Men with winch lowering man with tin helmet into boarded round hole. Possible bomb site
Demolition of The Priory buildings, Orpington , Orpington 1959 Demolition of existing buildings at The Priory to make way for the new building to house the library.